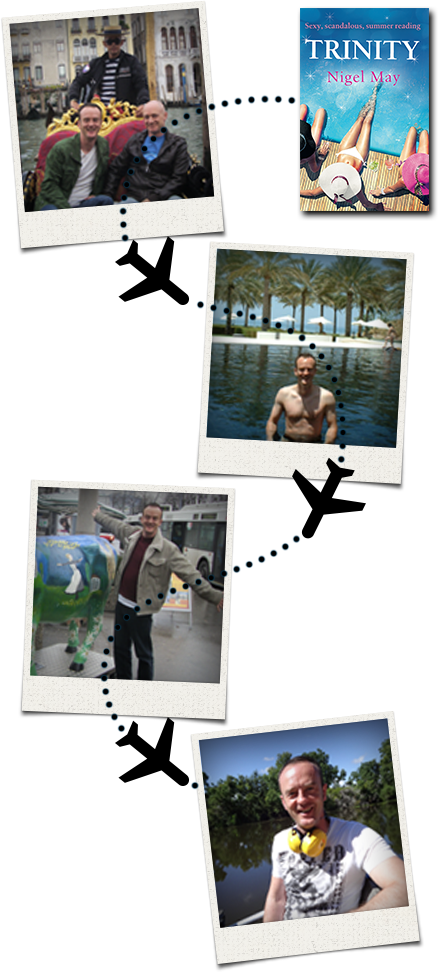 TRINITY TRAVELS
One of the fabulous things I love about writing glam fiction is the chance to jet off around the world to destinations that I want to include in the books. It's a fabulous excuse to clock up the air miles. Here are some of the places the dynamic trio from TRINITY headed to.
VENICE
Evie, Nush and Regan head to the Venice Film Festival where actress Evie is promoting her latest film. I love Venice – there is nowhere else like it in the world. The streets are narrow and mystical, the gondolas are magical and steered by handsome men and the Lido, where the Festival takes place is just wondrous. The hotels there are old school and evoke dreamy nostalgia from days gone by.
MUSCAT
When Evie and Nush decide to head off for girlie weekend I picked Muscat in Oman, as it houses one of my favourite hotels, The Chedi. Long lazy days in the scorching sunshine can be cooled by a dip in the infinity pool with a cocktail in hand as you stare out towards the clear blue ocean. And the souk is a real experience if you wish to buy some bling.
SALZBURG
Anyone obsessed with musicals will know that Salzburg is the setting for The Sound Of Music and Evie heads to Austria with her boyfriend on a skiing trip. As her relationship wobbles Evie heads to the Mirabell Gardens, where the Von Trapps famously Do-Re-Mi'ed in the film. It's one of my favourite places, full of charm and joy and a place where you can't help but sing!
BATON ROUGE
Just outside New Orleans, Baton Rouge is swampland and an area famed for film production. Sadie, Nush's stepmum, grew up there and spent a lot of her time watching Regan's mother, starlet Montana, making movies on the banks of the swamps. It's an incredible place with gators to see and incredible marshy glades where you can take a boat and spend hours pretending to be a great adventurer.