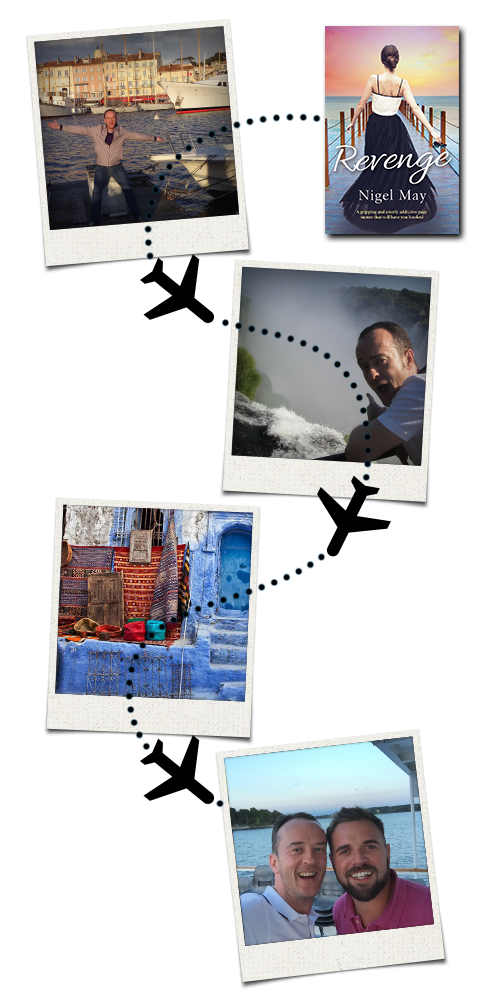 A RENDEZVOUS FOR REVENGE
For the tangled web of revelations and payback detailed within the murderous pages of Revenge, I needed to make sure my characters were always seen in the most fashionable of places.
ST TROPEZ
One of the most celebrated jet-set playgrounds in the world for the totally rich and famous. Any A-Lister who wants to be seen has strutted their Louboutins along the harbour-side at the jewel of France's Cote D'Azur. Money talks, affairs abound and dark secrets lurk behind every pair of sunglasses as the decadent ones take their place in the town's famous bars. I love it there and it was the only place that top chef Dexter Franklin could open his new must-go restaurant.
IGUAZU FALLS
The most incredible and amazing collection of myth-steeped waterfalls situated on the border between Brazil and Argentina – the perfect location for the prologue of Revenge. As the mist from the cascading waters falls on the lush greenery of the surrounding forest, murder is about to befall somebody too. Iguazu is a rainbow of colour and wildlife and when I visited it I knew it would be spot on for the wild antics of the cast of Revenge. It should be on everyone's bucket list.
CHEFCHAOUEN
I wanted to find a magical place for the start of a romance in Revenge and when I stumbled across Chefchaouen in Morocco I knew I had struck gold. Or should I say blue. The village is situated in the Rif Mountains, just inland from Tangier and is known as the 'blue city' because the houses there are all delicious shades of blue to supposedly symbolise heaven and the sky. When Rosita heads there, her world is turned upside down.
STOCKHOLM
The capital of Sweden is one of the cleanest, slickest and prettiest places I've headed to in Europe, and any visitor must take a boat trip out into the archipelago. The collection of 30,000 islands, islets and rocks is truly breath-taking and when the sun's shining on the crystal waters and a slight breeze is blowing through your hair I think it's the perfect place to relax. Not that restaurant critic DC Riding does that when he's sent there in Revenge. No, as ever, he was ready to blow a hissy-fit!