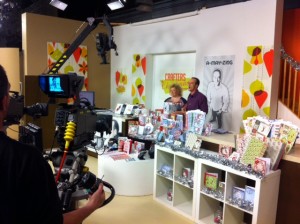 I may still be a delirious crafty cocktail of 'thrilled with glee' and 'pooped with mind-fuzzying tiredness' but I still can't believe that I have just completed my first ever A-May-Zing Pick Of The Day. 24 Hours, 11 hour-long shows and more demos that I ever dreamt I would be capable of getting together, laying out and actually doing on national TV – but we did it. Myself and the lovely girls at Crafter's Companion, Leann and Sara, have made it happen! A-May-Zing Craft Into Christmas had lift-off and flew! It's been the realisation of all of my crafty dreams ever since the seed of all things A-May-Zing germinated in my mind some 18 months ago. So cheers to two of the best and most talented ladies on Planet Craft for letting me dive on in…but my biggest thanks have to be to….YOU!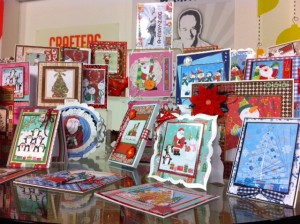 It's only now, a few days after the launch that I can sit down and actually work out how many people went onto the phonelines and onto the websites at Ideal World and Create And Craft to order something from the A-May-Zing range. The though of so many people liking something I've worked on warms my Christmas cockles. When you put something out into the public arena, I imagine it's a bit like throwing your baby into a swimming pool for the first time, giving it the chance to 'swim'. There is a chance that it could sink without trace, there is a chance that it might be whipping across the water like a crazed penguin in search of fish. Luckily for me, the Craft Into Christmas range seems to be a selection of artwork and my very own 'cheeky' verses that you are loving. So to every one of you who purchased the CD-Rom set, or the paperkits, or the stamps, I would personally like to say thank you. If I could borrow Santa's sledge and pop round door-to-door I would do. It might take me until Christmas 2020 but I'd do it!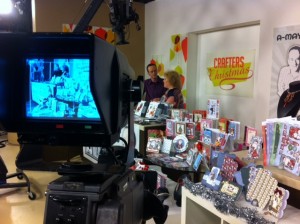 We had a massive stock of the CD-set and I don't mind sharing with you the scariness of going into a show – especially something as prestigious as a Pick Of The Day for our huge Crafters Christmas Event – with so many CDs ready to go. I had images of having enough CDs left over to pave the streets of the village where I live for the rest of the year. Luckily that is not the case. The feedback you guys have given me has been brilliant – yes, there's the odd negative comment and I respect that – there always is in life – but on the whole people have been kind, supportive and incredibly encouraging. My late mum always taught me that you can't please all of the people all of the time. Wise words.
The day after the launch was weird in the extreme – you feel so happy that it's over as you can put your feet up for a few moments, yet kind of sad that it's finished in the same breath. Even though my body doesn't feel pumped enough to cope with another 11 hour marathon just yet (I was fuelled by tea and chicken sarnies all day thanks to Sara!) I can't wait for the next step of my A-May-Zing journey.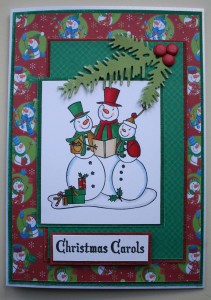 So to the thousands who bought, to the A-May-Zing Angels design team who created fabulous cards, jewellery, fabric creations and so much more for me to show on the programmes and to the peachy Leann who acted pretty much as my TV wife all day (and even allowed me to have a momentary 'affair' with Sara for one of the shows) I bow down in gratitude. There is a lot more on the horizon and I am so excited about some action-packed A-May-Zing adventures ready to rumble in the months to come. So, for now I say 'cheers y'all' with a bit of crafty inspiration in the form of a fabulously festive snowman card.
To make the card you will need the following:
Two sheets of backing paper
A5 card blank
Green and red cardstock (traditional colours for this one)
Neenah card
The Snowman stamp sheet from the Festive Fun selection (the images with a heartbeat!)
A Marianne Fern die
Card Candy
Foam Pads
Spectrum Noir Pens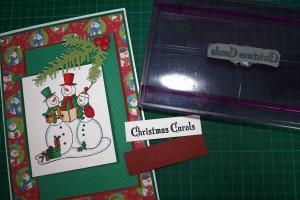 Instructions…here we go….
1. Mat and layer the snowman backing paper onto the green cardstock and attach to the card base
2. Mat and layer a piece of green backing paper and red cardstock and attach it to the card
3. Stamp the snowman image onto green cardstock and colour with Spectrum Noir pens (colour guide below)
4. Mat the coloured image onto the green cardstock and attach to the card
5. Stamp the Christmas Carols sentiment stamp from the Snowmen stamp sheet onto Neenah cardstock and onto the red cardstock
6. Attach the sentiment onto the card using foam pads
7. Embellish the card with the fern die cut and card candy to finish.
The Spectrum Noir colours are: Dark Greens on jackets, hats and scarves JG1 JG2, Reds on hats and scarves DR3 DR5 DR6, Brown on jacket and hat GB8 GB9, Book EB1 EB2, Orange noses OR1 OR2, Blue shading on snowman TB2 Blender.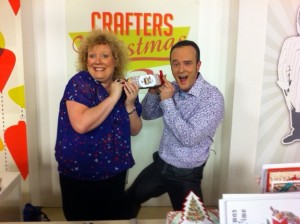 Hopefully you should have a card that is sizzling with festive warmth – but not too much of course, or else the poor fella would melt!
See you soon for more things crafty – stay A-May-Zing!! Love Nigel xx
The A-May-Zing range is available to buy exclusively through Create And Craft TV which you can tune into at Sky 671 Freesat 613 and Freeview 36. You can buy the Craft Into Christmas stamp sets at http://www.createandcraft.tv/_247790.aspx and the A-May-Zing Craft Into Christmas double CD-Rom twin set at http://www.createandcraft.tv/_247649.aspx where you can also watch the online videos for inspiration.