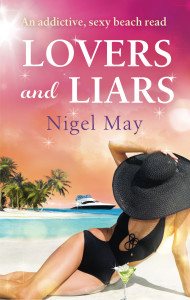 Hi there. I hope you're all good! This month has been an amazing one as I finally launched my fifth novel, Lovers And Liars. I can't believe it's my fifth one already. It seems two minutes ago that I was sitting down to plot out the characters for my first novel, Trinity, and now here we are, five books in. Amazing. How did that happen?
I really hope you like Lovers And Liars as it's a truly tropical slice of the action and I had a blast writing it. It's a spicy murder mystery at heart with the discovery of the body of Sheridan Rivers, the tyrannical owner of the Velvet Hotels chain. When his corpse is found in a pool of blood at his penthouse suite at Velvet Barbados it appears there is a list of suspects as long as a rolling Bajan beach lining up to have delivered the fatal blow. Who was it that wanted to see him meeting his maker?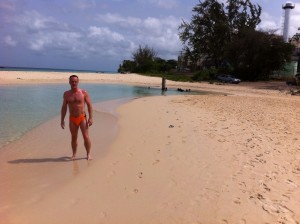 The thing I adored about Lovers And Liars was that I was able to set most of it on the paradise island of Barbados, which I have to admit is the most vibrant and wondrous place. I went there on holiday last year and fell in love with it and knew straight away that it would have to be the setting for lots of murderous thrills and spills in one of my books. I was there for two weeks and lots of the places I visited during my stay there pop up in the storyline of Lovers. I dined at The Cliff Restaurant which was incredible and just had to be the setting for a showdown between two of my characters and the party-vibe of Oistins was the ideal scene for another character to live in. Plus I had to feature Brighton Beach and the amazing house where I stayed with its powder-white sands, birthing turtles and hot pools. And I was lucky enough to be personally shown around the celeb-dipped Sandy Lane Hotel by Ryan, one of the managers there. It was superb and I loved every sun-soaked, calypso-filled moment of my time there.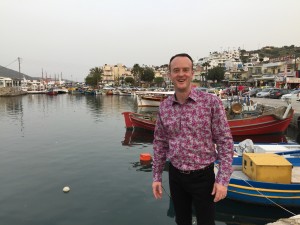 This book also sees the characters head to destinations like Tokyo, St Lucia, New York, Toronto and to perhaps the little-known Elounda in Crete, which is said to be an up and coming celebrity haunt. I read about it online a while back as a place where Leonardo DiCaprio and Lady Gaga had visited to escape the madness of fame (they didn't go together I assume!). It's a sleepy Cretan fishing village and when I knew that it was popular with the stars I thought it would be the most wondrous place for some of the characters in Lovers to spend some time. Sheridan wants to build a hotel there much against the wishes of his daughter, Heather, and her husband Max. Elounda was fabulous and such an unspoilt laid-back village with its fish-scented tavernas and multi-coloured boats bobbing up and down in the water. It was totally idyllic. It was also just a few miles away from the ruins of the Palace Of Knossos, the place where the mythological beast The Minotaur was said to roam. I love anywhere with a sense of history and has an incredible story behind it and knew again that I would have to use it for my adventures in the novel. I would recommend it as a place to visit to anyone – there is a real sense of magic and mystery as you wander around the ruins.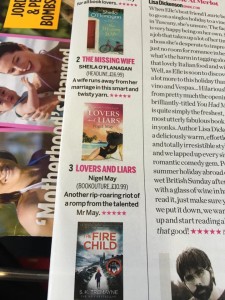 As I write this I have already been lucky enough to have seen Lovers And Liars featured in Heat Magazine's Top 5 which is incredible and the reviews for the book so far have been excellent too. It blows me away every time when people say nice things about my writing so I would like to thank each and every one of you for your support. It really does mean the world. Leaving reviews on Amazon for books is so important, so if you have a spare five minutes, please do. Another lovely piece of news is that I have just found out that my last novel, Deadly Obsession, has been given a book deal in Turkey! How fabulous is that. Finally I will see what my words look like in a foreign language. It truly is a dream come true. It's made me think that I might have to set part of my next novel there as an excuse for a bit of a jolly…oops, 'research' trip! Here's to Turkey!
If you would like to read Lovers And Liars you can find it on Amazon (links are all over this website!). Much love, see you soon. N xx