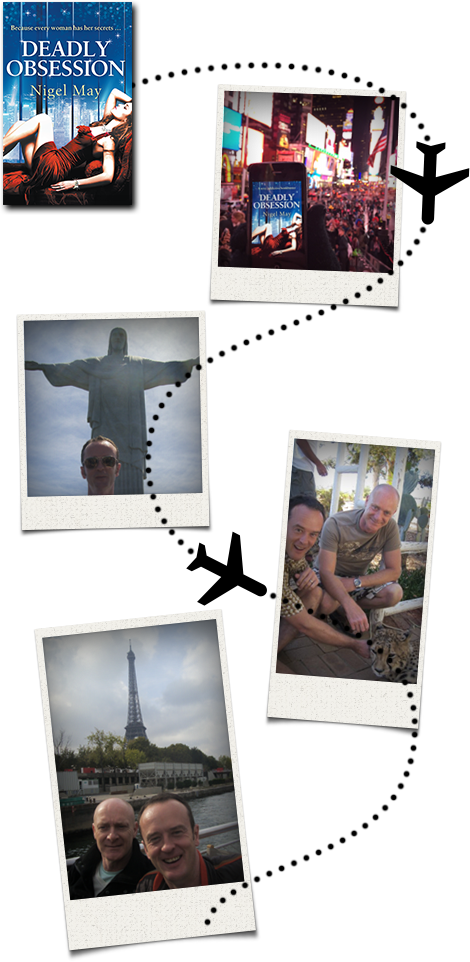 DEADLY DESTINATIONS
For the spicy crimes of Deadly Obsession a lot of the gritty action takes place in Manchester, one of my favourite UK cities, but of course that doesn't mean that glamour and decadence are not just a flight away as the characters jet off around the globe.
NEW YORK
The Big Apple with a massive potential for a cracking storyline. I love visiting NYC and thought it would be the perfect place to send diva Caitlyn Rich and her secret lover. The heart of Times Square beats mightily while a story of love, romance and drama unfolds behind every door. And as for the shopping…my credit card didn't know what had hit it.
RIO DE JANEIRO
One of the most magical things I have done is take a helicopter ride around Christ's Redeemer in Rio. The word 'stunning' doesn't even start to explain how incredible it was. I fell in love with Brazil and Rio's tropicana and party-vibe was perfect for an adventure for Amy and Riley.
INVERDOORN
Inverdoorn is a game reserve just outside Cape Town and a thrilling place for a safari. Amy and Riley head there to check out the wildlife but of course have some wild moments of their own. When I went I was entranced by the brilliance of the stars at night and the softness of a cheetah's fur as we stroked a tame one while taking breakfast.
PARIS
The city of romance and perfect for young lovers. Paris in one of my favourite cities on earth as it radiates glamour and opulence. Watching elegant people pass by as you gaze at the Eiffel Tower sipping at your cappuccino in a street side café is an experience that everyone should savour. J'adore Paris beaucoup!