Hello everyone
One of the things I am going to try to do with the launch of my A-May-Zing craft range is constantly bring you inspiration using the fabulous papers and design sets featured on my first ever CD-Rom, All Kinds Of Everything. It's been such a pleasure compiling it and even more of a pleasure finally getting to use it. It's like seeing your baby walk for the first time!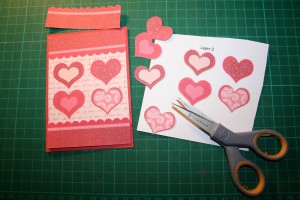 In the countdown to the shows I shall be posting simple projects that I have been able to put together (and afterwards too for anyone who buys it). Quick and easy ones when you need a card quicker than you can say 'decoupage'. And seeing as I'm in love with my CD-Rom I thought using the LOVE section would be a great place to start. And why wait for a special occasion to send a bit of love – I reckon we should send some love each and every day, don't you..?
To make this A5 card all you will need to print from All Kinds Of Everything are:
1. A sheet of LOVE decoupage
2. A sentiment from the LOVE section
3. Your choice of backing papers
4. A heart border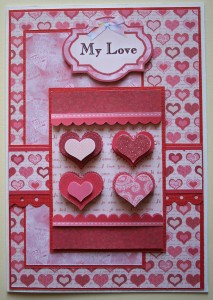 The only other things I've used are a Fiskars border punch for the scalloped edge and some wonderful Core'Dinations card stock for matting and layering. Plus an A5 card base and the ever faithful foam pads for giving the card a bit of definition and to raise the hearts up. This card also features one of my favourite backing papers on the CD, the multi-lingual LOVE sheet which has 'I love you' translations on it in lots of different languages. Might come in handy for some foreign trips! Always a good excuse to board a plane and call it 'research'…
Including the cutting out the card only took about 20-25 minutes (after spending a good hour choosing what I wanted to print out naturally!) and was very simple – which is handy for a nifty novice like me. Hopefully you like it as much as I do.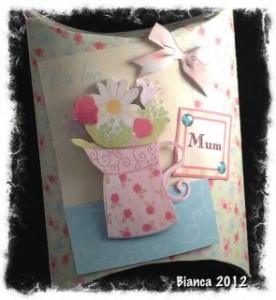 For more inspiration, there are lots of cards being made by my team of  "A-May-Zing Angels" (as I call them), the fabulous design team who are sharing this crafty adventure with me. And right now they're running a competition. Anyone who leaves a comment about any of the A-May-Zing card samples on any of the design team websites will be entered into a draw to win a signed photo . To quote Bianca, one of the "Angels" ' 'Now there is also a bit of candy up for grabs here as well!! A money can't buy signed photo of Nigel, so to be in with a chance of winning all you have to do is leave a comment on any of my A-May-Zing posts and I will enter you into the draw (only 1 comment per post please) I will announce the winner the morning of launch day. The other design team members are also giving away so be sure to check out there blogs too :0)."
So if you fancy giving it a whirl please do!
Here are some of the A-May-Zing blogs:  http://taylormaidcards.blogspot.com/ http://louscardcreations.blogspot.co.uk/ http://crafty-moments.blogspot.co.uk/ http://foxglovecrafting.blogspot.com/ http://aliwatsoncreations.wordpress.com/ http://foxglovecrafting.blogspot.com/ http://jacqui47.blogspot.com/ http://lindasrainbowcraftingcabin.blogspot.co.uk/ http://www.secretcrafter.blogspot.co.uk/ http://anotherdayanothercard.blogspot.com/ www.angel4031.blogspot.co.uk http://mycraftblogumentary.blogspot.co.uk/ http://bee-crafty-b.blogspot.co.uk/   www.mariannescraftroom.blogspot.com
Til next time….I wish you All Kinds Of Everything, but especially love!
x N x
A-May-Zing "All Kinds Of Everything" launches the birthday week on Create And Craft TV at 9pm on Thursday 19th April. Fantastic offers and money saving guaranteed. Other shows planned, as I type, for 11pm on 19th April, 8am and 1pm on 20th April. Create And Craft TV Sky 671, Freeview (8am-6pm) 36, Freesat 813. Watch online anywhere in the world at www.createandcraft.tv