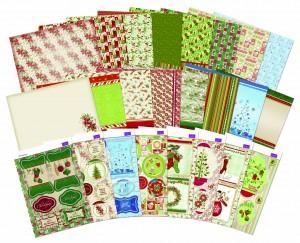 Hi there festive peeps! The countdown is on to the launch of the A-May-Zing Craft Into Christmas craft range – I've put together a fabulous double CD-Rom set which I hope you're going to love, 12 stamp sheets which feature some of my favourite images from both CDs in stamp form – ready to rock-a-block their way into your Christmas stockings I hope! And we've compiled the most amazing (no pun intended) Luxury Card Crafting Kit as well. It's mega! I've included a little piccy here (it's the first time I've told people about it!) to get you in the mood for the launch.
Talking of getting in the mood, it's time for another Santa card.  I hope these cards are filling you with hefty doses of the festive spirit – they are me, and bizarrely I'm sat typing this in the sunshine so it all seems pretty weird!  I could quite fancy a mince pie and some brandy butter to be honest!
Anyway onto the card, this is a large 8in x 8in card so a good size to stand out from the others on the Christmas mantlepiece.
To make this card you need: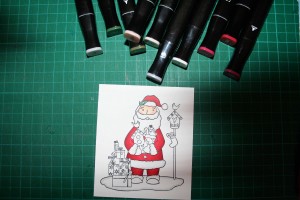 8 inch x 8 inch Card Blank
Print 2 sheets of backing paper from the CD-Rom
The Santa's Grotto Stamp Sheet
Red and Green cardstock
Martha Stewart Snowflake Border Punch
Holly and Flower Punches
Card Candy
Neenah Cardstock
Oval and Scalloped Oval Dies
Foam Pads and pens (Spectrum Noirs were the ones I used)
Here are the instructions….
1. Mat and layer the striped backing paper onto red cardstock and attach to the card base.
2. Cut a piece of red cardstock to fit across the length of the card and punch a snowflake border.
3. Mat and layer a piece of snowflake patterned paper onto the red punched cardstock and attach to the card.
4. Stamp the Santa image onto Neenah cardstock and colour with your Spectrum Noir pens (you can use any pens you wish to but I have included the colour guide here for the Spectrums as they are the ones I used).
5. Mat and layer the Santa image onto red cardstock  and attach to the card base.
6. Stamp the Santa's Grotto sentiment from the Santa's Grotto stamp sheet onto Neenah cardstock.
7. Die cut the sentiment with an oval die cut and mat and layer onto a scalloped oval die cut. Stick to the card with foam pads.
8. Embellish the card with punched holly, flower and card candy to finish.
Here are the Spectrum Noir colours I used: Red Santa Suit – DR3, DR5, DR6 Boots, Gloves – IG5, IG6 Dark Greens – JG1, JG2 Pink on Present, Stocking – PP1, PP3, PP4 Yellow Star – CT1, CT4 Browns – GB8, GB9 Blues – TB1, TB2 Skin - FS2, FS4, FS8
So Ho! Ho! Ho! I hope you're loving the finished card! See you for the launch… festive love, Nigel xxx

The A-May-Zing Craft Into Christmas collection of digital images, stamps and paper kits is launched exclusively on Ideal World and Create And Craft on Tuesday 19th June at 9pm. The shows are as follows at the moment: 19 June 9pm and 11pm (Ideal World), 20 June 8am, 10am, 1pm, 4pm and 7pm (Ideal World) and 20 June 12 noon, 3pm and 5pm (Create And Craft). It promises to be an A-May-Zing day. Leann Chivers from Crafter's Companion will be there with me and we'll be showing you loads of inspiration.
Ideal World Sky 644 Freeview 22 Freesat 812, Virgin 747. Create And Craft Sky 671 Freeview 36 Freesat 813
For more samples from the fabulous A-May-Zing Angels team and a chance to win some A-May-Zing goodies you can head to the following blogs:
http://lynseys-place.blogspot.co.uk/
http://www.secretcrafter.blogspot.co.uk/
http://lindasrainbowcraftingcabin.blogspot.co.uk/
http://aliwatsoncreations.wordpress.com/
http://louscardcreations.blogspot.co.uk/
http://jacqui47.blogspot.co.uk/
http://crafty-moments.blogspot.co.uk/
http://foxglovecrafting.blogspot.com/
http://www.mariannescraftroom.blogspot.co.uk/
http://bee-crafty-b.blogspot.co.uk/
http://taylormaidcards.blogspot.co.uk/
http://www.angel4031.blogspot.co.uk/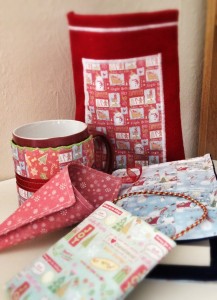 PS: I couldn't resist another sneaky peak if you managed to get to the end of this blog. One of my fabulous A-May-Zing Angels Design Team and all-round good guy John has been playing around with the Craft Into Christmas design sets and printing them onto Inkjet Fabric Paper – take a look at a few of the things he's made. I absolutely love them. I may have to ask him to decorate my entire house!!!